Safescraper® TWIST - Curved Version
Quickly harvest osteogenic autogenous bone
Ultra-sharp 160 degree cutting blade allows autogenous bone collection from any bony surface
Manually harvest autogenous bone while preserving cell vitality
Ergonomic design
Disposable
2.5 cc transparent collection chamber
***Bone Scraper Bulk Discount: Buy 5 Get 1 Free**
(A total of 6 boxes must be in your cart to get 1 free)
PLUS: Free 2nd day shipping on all online orders $250+ (a $15 Value)
AVAILABLE IN THE US ONLY. NOT AVAILABLE TO SHIP TO CANADA.

Select Product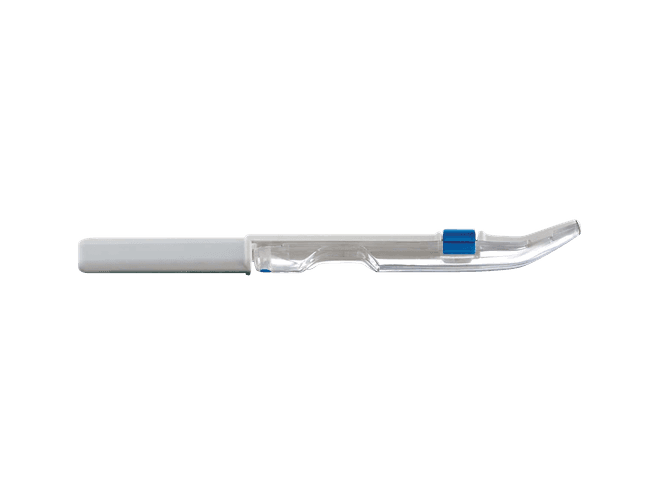 Safescraper® TWIST - Curved Version
Please sign up or log in to see prices and add products to your cart
More Information
The Safescraper® Twist cortical bone collector uses the latest technology in bone scrapers to atraumatically harvest vital bone in large or small amounts, even in areas with limited access. The device's 160 degree semicircular blade allows clinicians to harvest bone from any surface - flat, concave or convex. By using the Safescraper® Twist, clinicians preserve the graft's cell vitality that can be compromised with other harvesting techniques that mill, grind, or potentially overheat bone.

The curled bone shavings harvested with the scraper have a mean length of 1.3 mm and have the porosity and low density to allow angiogenesis. Because the bone is collected with coagulated blood, it displays a high biological plasticity shortly after it is harvested. This makes the graft extremely easy to handle and mold. The ergonomic design of the Safescraper® Twist allows clinicians the ability to easily harvest bone from intraoral sites with a minimally invasive approach. The sterile, disposable scraper makes providing your patients with mineralized cortical bone easier then ever before.
Published Studies
Clinical and 3-Dimensional Radiographic Evaluation of Autogenous Iliac Block Bone Grafting and Guided Bone Regeneration in Patients with Atrophic Maxilla. Gultekin BA, Cansiz E, Borahan MO.
J Oral Maxillofac Surg. 2017 Apr;75(4):709-722.
Intra-oral bone harvesting: two methods compared using histological and histomorphometric assessments. Bacci C, Lucchiari N, Valente M, Della Barbera M, Frigo AC, Berengo M.
Clin Oral Impl. Res. 2011 Jun;22(6):600-5
Sinus elevation by in situ utilization of bone scrapers: technique and results. Martos-Díaz P, Naval-Gías L, Sastre-Pérez J, González-García R, Bances- del Castillo F, Mancha-de la Plata M, Galindo-Moreno P, Muñoz-Guerra M.
Med Oral Patol Oral Cir Bucal. 2007 Nov 1;12(7):E537-41.
Published Case Series
Sinus graft with Safescraper: 5-year results. Caubet J, Petzold C, Sáez-Torres C, Morey M, Iriarte JI, Sánchez J, Torres JJ, Ramis JM, Monjo M.
J Oral Maxillofac Surg. 2011; Feb;69(2):482-90.
Maxillary sinus floor augmentation and simultaneous implant placement using locally harvested autogenous bone chips and bone debris. Johansson LA, Isaksson S, Lindh C, Becktor J, Sennerby L.
J Oral Maxillofac Surg. 2010;68:837-844.
Maxillary sinus augmentation with autologous bone harvested from the lateral maxillary wall combined with bovine-derived hydroxyapatite. de Vicente JC, Herna ́ndez-Vallejo G, Bran ̃a-Abascal P, Pen ̃ a I.
Clin Oral Impl. Res. 2010 Apr 1;21(4):430-8.
GBR and autogenous cortical bone particulate by bone scraper for alveolar ridge augmentation: A 2 case report. Trombelli L, Farina R, Marzola A, Itro A, Calura G.
Int J Oral Maxillofac Implants. 2008;23:111-116.
A novel bone scraper for intraoral harvesting: A device for filling small bone defects. Zaffe D, D'Avenia F.
Clin Oral Implants Res 2007;18:525-533.
Posters
Vertical ridge augmentation procedure in the posterior maxilla by means of a porcine pericardium collagen membrane and a porcine particulate xenograft mixed with autogenous particulate bone. graft: a case report. Fabrizio Belleggia, DDS
Presented at the International Osteology Symposium in Barcelona Spain, April 25 - 27, 2019
Clinical, histological and histomorphometrical evaluation of a new porcine xenograft utilized in bone augmentation procedures: a case series. Fabrizio Belleggia, DDS
Presented at the International Osteology Symposium in Barcelona Spain, April 25 - 27, 2019
The Pros of the Staged Approach in Vertical Guided Bone and Soft Tissue Reconstruction of the Mandibular Atrophy. Fabrizio Belleggia, DDS
Presented at the European Academy for Osseointegration (EAO) in Rome Italy, September 25-27, 2014